Chapel of Trakai Church of the Visitation of the Blessed Virgin Mary (read)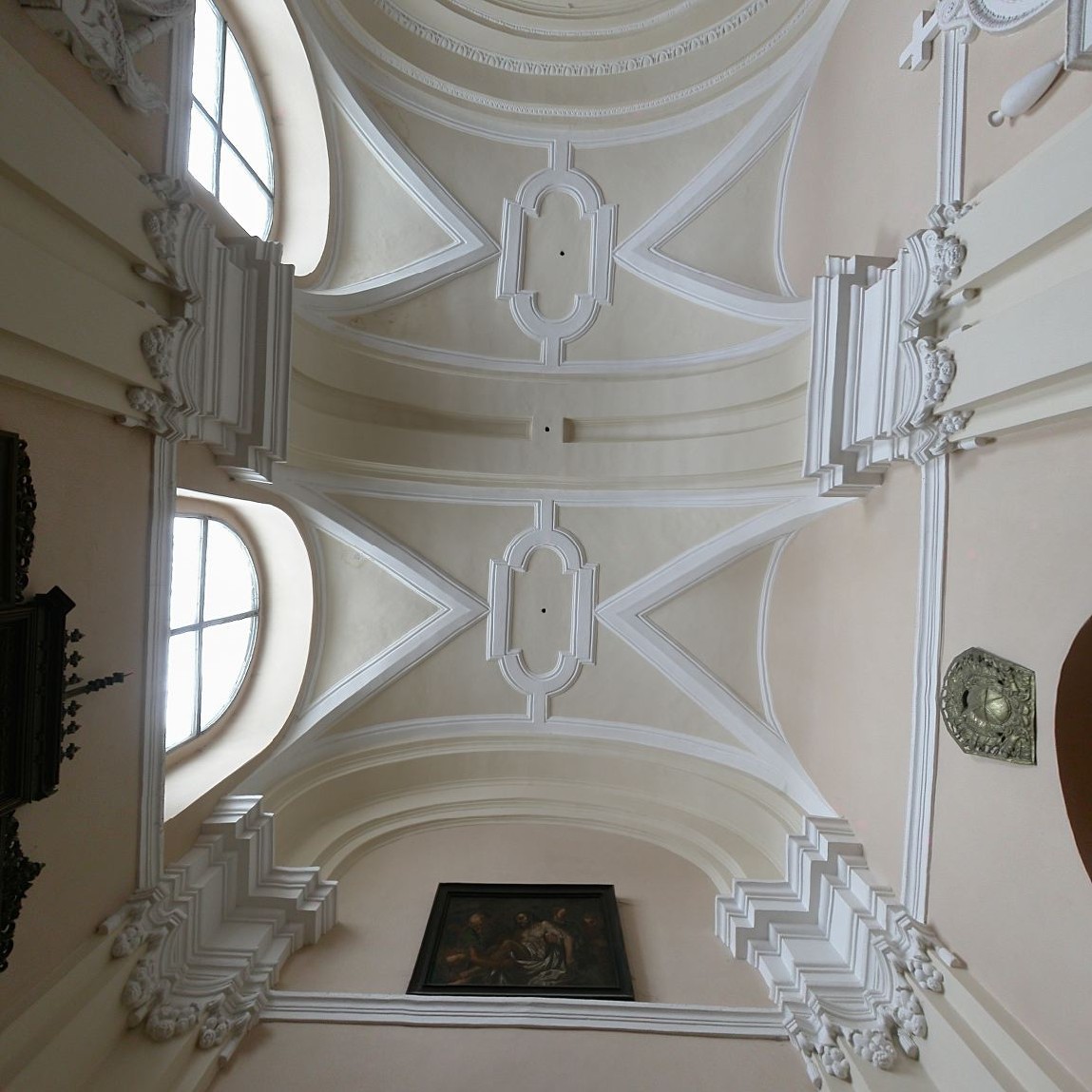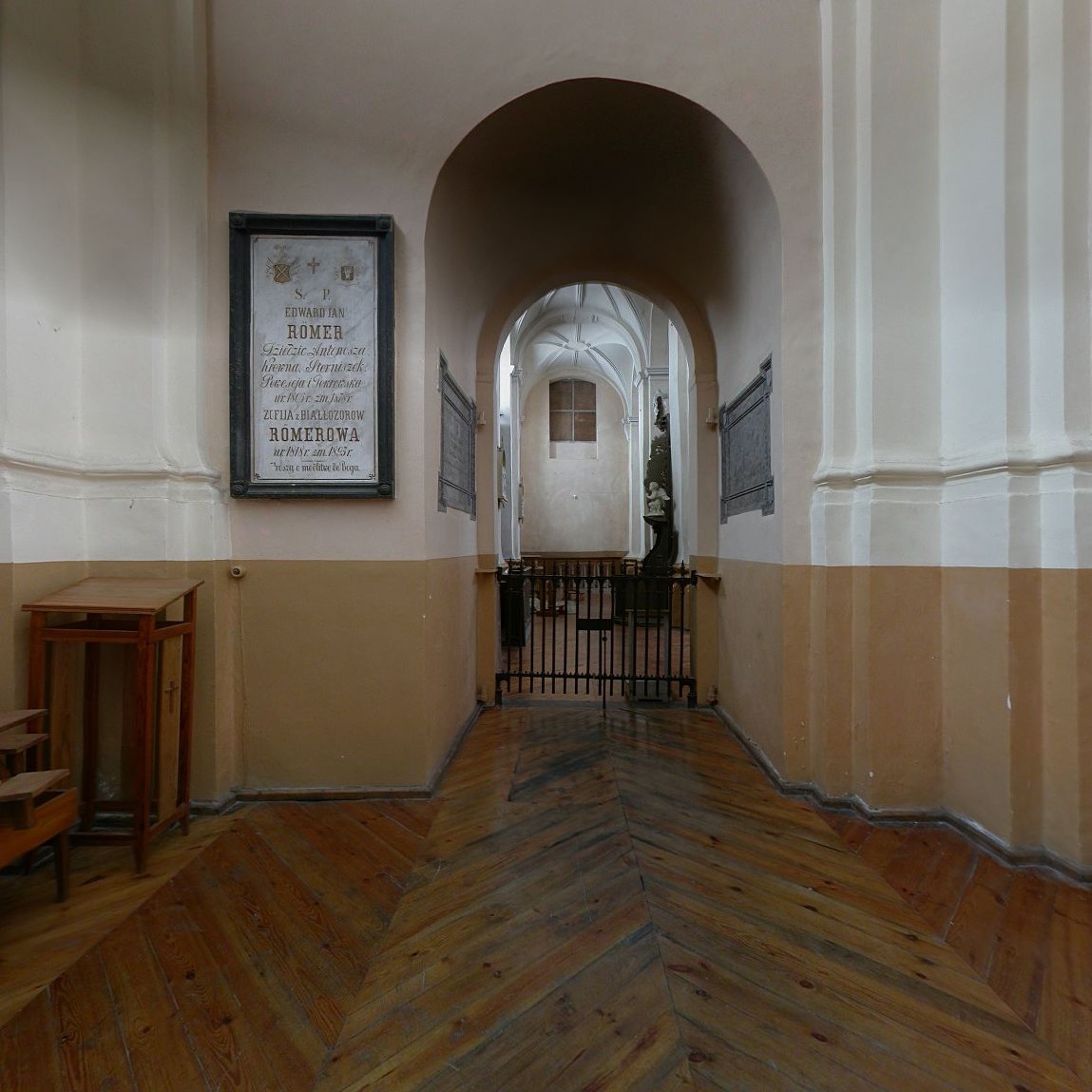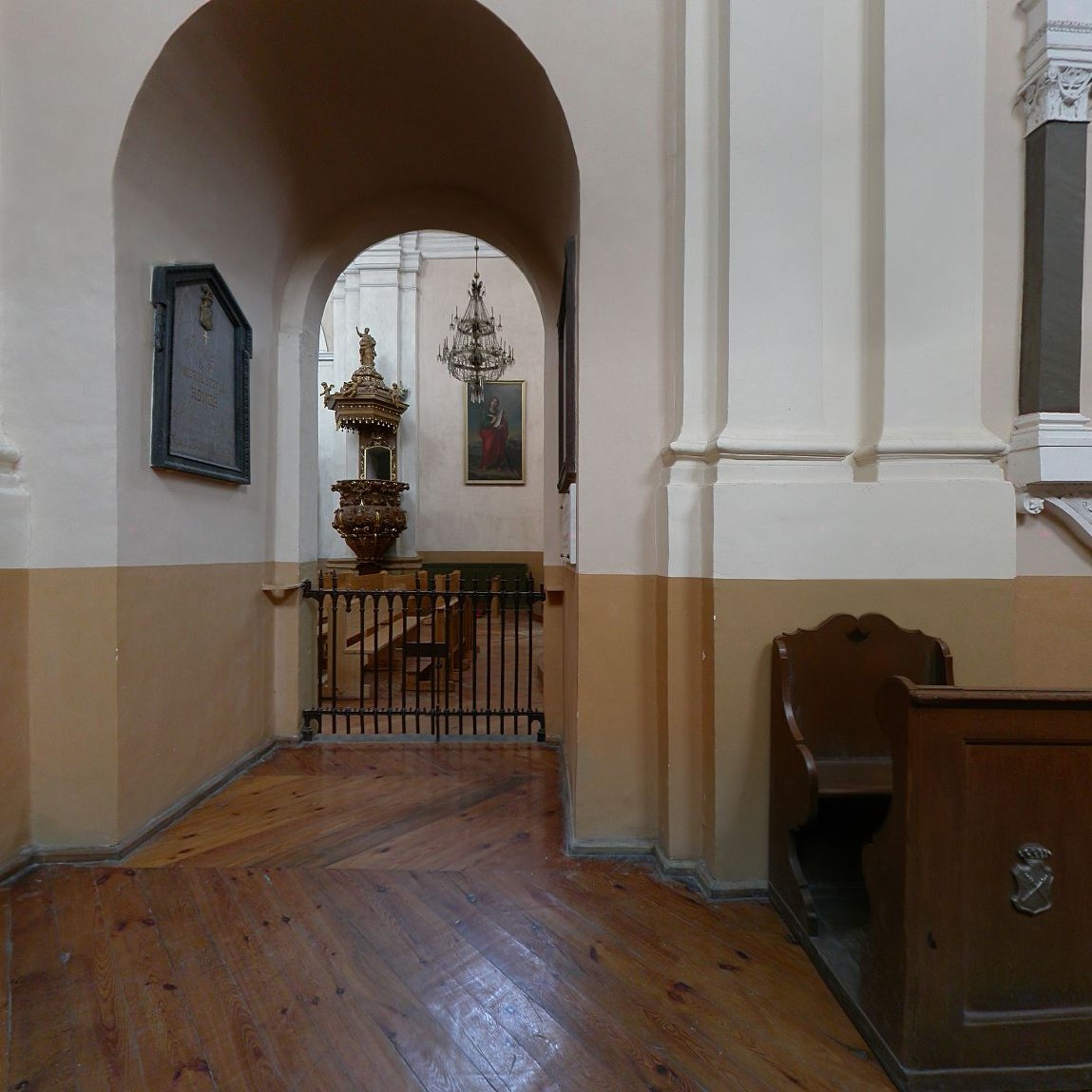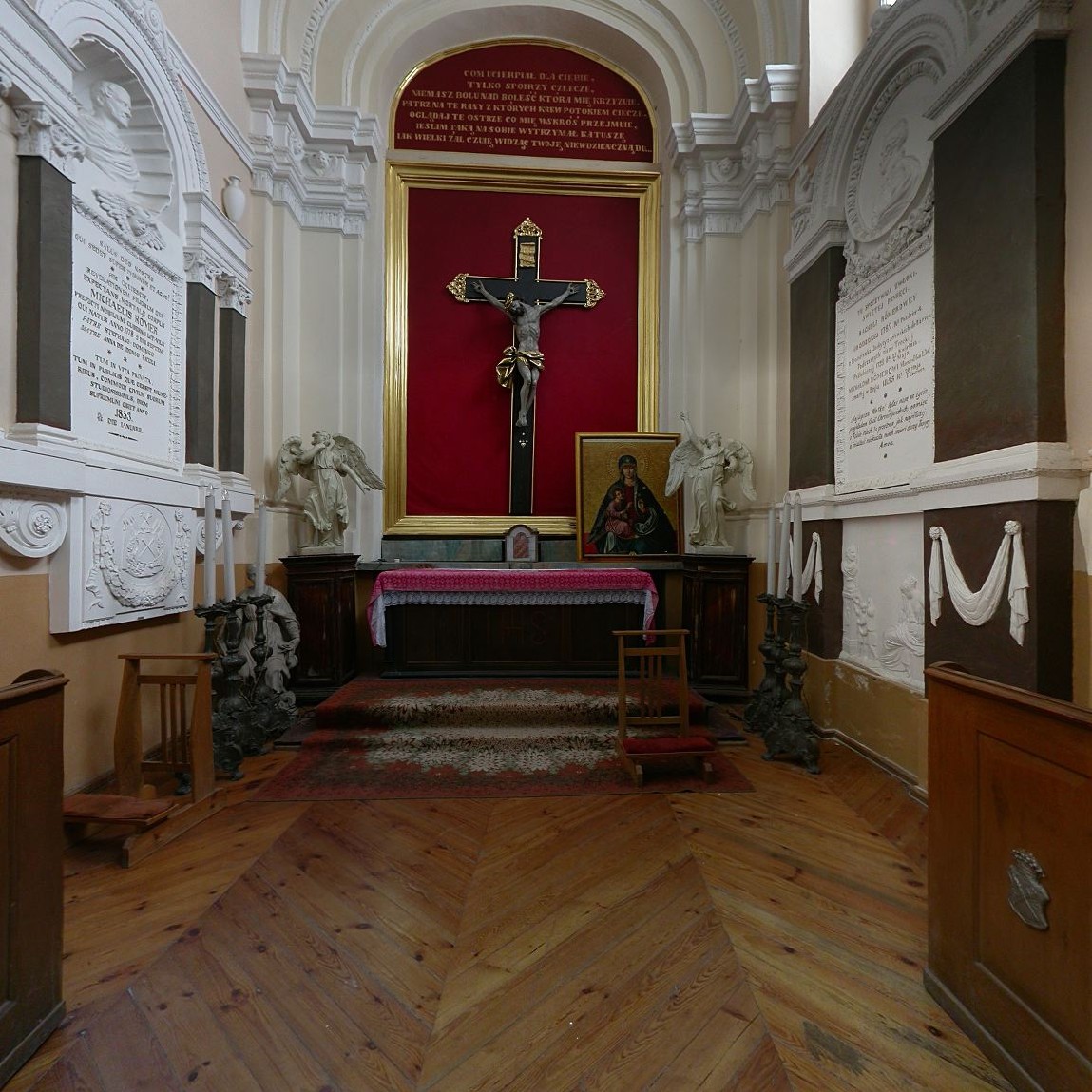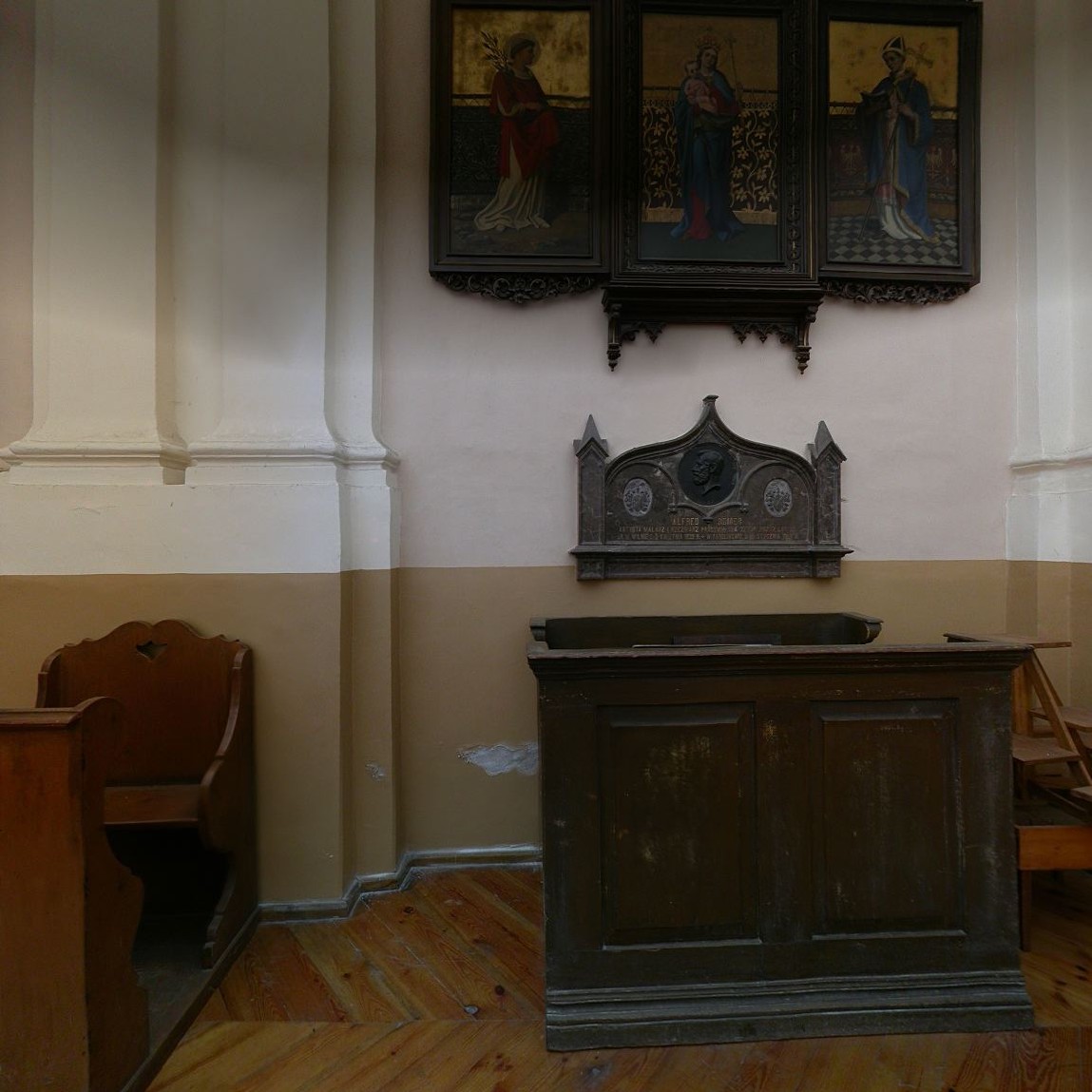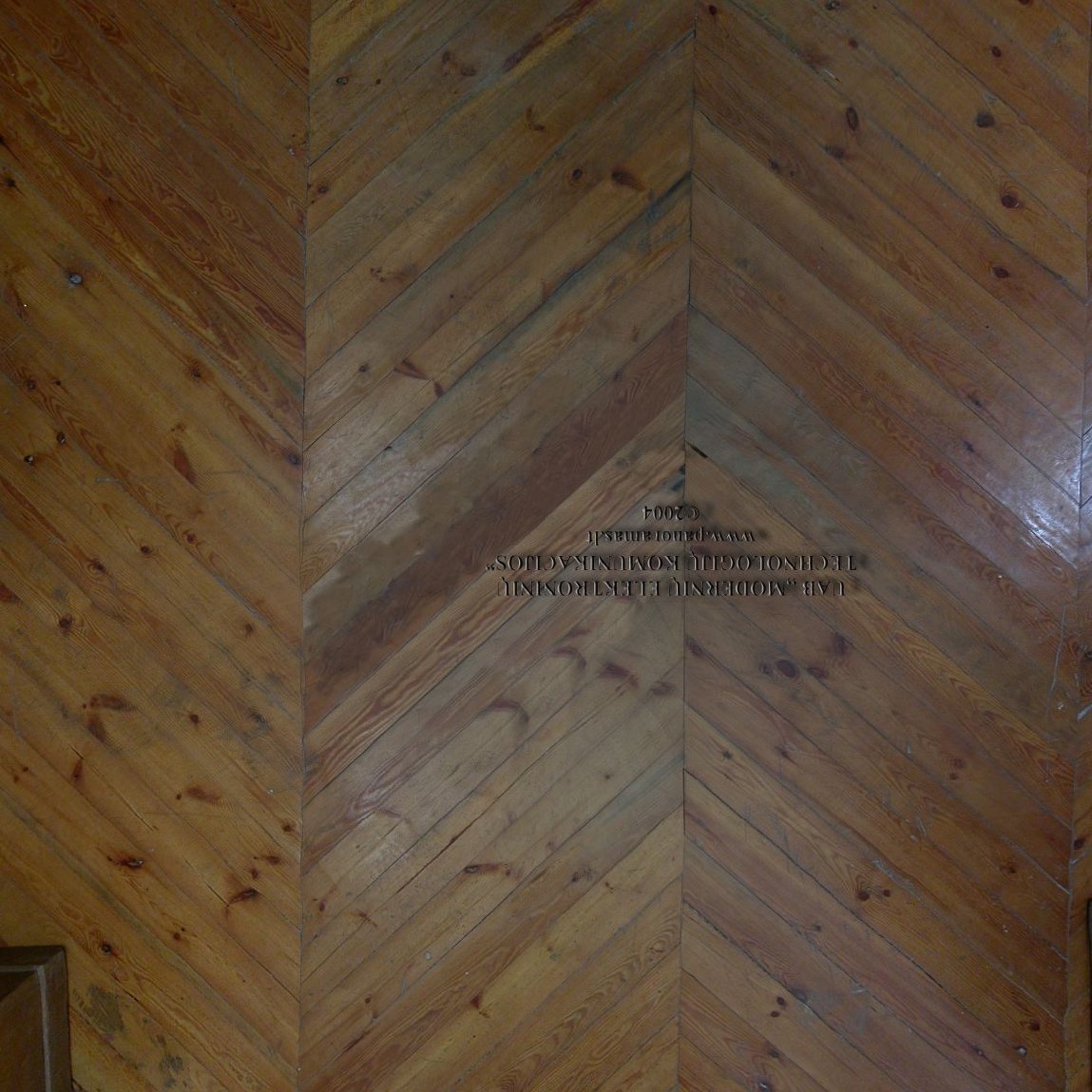 Sound background: Gregorian chant of the Palendriai monastery, leader Gregory Castrini
Description
Trakai parish church stands in the centre of the town on a hill. On its western and northern sides it is surrounded by houses and gardens behind which runs Vytautas St; on the east os Birutė St. The church yard is surrounded by a brick wall with gates on the northern side. The church is a rough oblong with an apse at the eastern end while two square towers stand at the corners of the western end. Between the towers is a low narrow porch. The church has three entrances.
The foundation of the church of the Visitation was made by Grand Duke Vytautas on May 24 1409. The Gothic basilica-like tower-less church with its step façade was built with an apse at the east end and adapted to defend the town. The old main entrance to the church was on the north side, from the Peninsula Castle end. A bell tower was built separately. In the early seventeenth century the parish priest, Eustachy Wołłowicz, who later became bishop of Vilnius rebuilt the church. This church burned down during the Polish-Lithuanian Commonwealth's 1654-67 war with Muscovy. In 1700 Maciej Römer built a chapel onto the church as his family mausoleum where Alfred Römer (1832-97) also lies. Building work continued until 1718 and the church took on a baroque appearance. The Baroque great altar was built that same year (11.1) with statues and plaster mouldinstr. In the middle of the altar hangs the famous wonder-working icon of Our Lady of Trakai.
The church suffered much in times of war. In 1812 the parish priest, Czerski, organised the defence of his church's treasures from the predatory attentions of Marshall Davy's troops.
The church was restored in 1840, 1858 and in 1894 the side altar was renovated by the Vilnius sculptor Abdon Zimodr. The church contains one historical monument and 37 treasured works of art.
Beside the church a brick wall surrounded what used to be the graveyard mentioned in the visitation records of 1753 but not in that of 1822, when burials were already moved beyond the churchyard wall. In the eighteenth century this was the town graveyard. A few graves remain in the churchyard belonging to parish priests from the nineteenth and twentieth centuries.
During the 1991 archaeological investigations disturbed graves were found in the area beyond the churchyard wall in what is now the presbytery yard at a depth of 1.1-1.15 m. Judging from the remains of the graves that were not destroyed it seems the dead were buried facing eastwards. Fragments of wooden coffins were found. The burials are dated to the 17-18 cent.
The church is the property of the Archbishopric of Vilnius.
from www.seniejitrakai.lt
Till toppen