Panoramic photos gallery by Kostas Shukevichius
About Lithuania
Lithuania is a green and flat land in the north of Europe, ashore the Baltic Sea. It is one of three Baltic countries, and shares borders with Latvia, Byelorussia, Poland and Russia (Kaliningrad). The country is full of preserved natural landscapes, woods, lakes and rivers, and has an unique sea side, with Curonian split, a sandy peninsula, isolating the Curonian sea from the Baltic sea.
Though Lithuania was mentioned already in 1009, now it is a young republic, trying to recover from a grinding occupation of Soviet Union. The independence was retrieved only in 1990, but the history of Lithuanian statehood started already in XIII century, when Mindaugas, the first and only kind of our country, gained the crown. The history of Lithuania is erratic, full of mighty victories and severe events. Today's Lithuania is a small country, but in historical maps you can find it the biggest country in the Europe, or not existing at all. Today the country, still under impact of 50 years soviet occupation, tries to blend into the economic and cultural space of Europe Union.
As one of the countries in Europe, baptized at the latest, Lithuania preserved much of pagan traditions, and folk traditions are still alive in villages. The cultural life prospers in all the bigger cities.
Facts about Lithuania
Area: 65 300 km² sq. km.
Population: 3 390 000 (year 2006), 2 810 000 (2018 year)
Coat of arms and flag: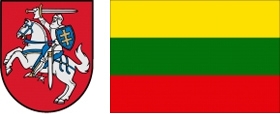 Language:
Official language– Lithuanian, which is the member of Baltic language group (other 2 members are Latvian, and dead Prussian language). It is the most archaic language from all the Indo-European languages.
Religion:
Lithuania is considered to be very religious country, sometimes named as "The land of Virgin Mary". Today 79 percent of Lithuanians consider themselves as Roman Catholics.
Currency:
The currency of Lithuania Republic is Lithuanian Litas (1 Euro = 3,45 Lt). In the year 2009 Euro should be introduced in Lithuania.
Political system:
Lithuanian Republic is the parliamentary democracy. The head of state is The President. Executive authority is Prime minister and the cabinet, and the legislative power is in the hands of Seimas (the parliament)
Neighbors
Latvia (land border – 588 km, sea border – 22 km)
Byelorussia (border – 677 km)
Poland (border – 104 km)
Russia (Kaliningrad) (land border – 255 km, border in Curonian sea – 18 km, sea border– 22 km)
Seaside:
Whole shore is 90 km long. The most unique part of seaside is the Curonian split – the peninsula, which starts in Kaliningrad and creates the Curonian sea.
Lakes:
Biggest lakes in Lithuania:
Drūkšiai – 44,8 sq. km
Dysnai – 24 sq. km
Dusia – 23,3 sq. km
Rivers:
Total length of rivers in Lithuania is 76 800 km. Longest rivers:
Nemunas – 475 km in Lithuania (total 937)
Neris - 234 km (510)
Venta – 161 km (343)
Forests:
Forests and bushes cover 30 percent of area. The biggest forests are:
Dainava wood – 1450 sq. km
Labanoras wood – 911 sq. km
Kazlų Rūda forest – 587 sq. km
Relief:
Lithuania is the country of flat lands, they cover about 75 percents of country. The highest hills (above the sea lever):
Aukštasis kalnas – 293,8 m
Juozapinė – 293,6 m
Kruopinė – 293,4 m
Administrative division:
Lithuania is divided in 10 counties, that are subdivided into 60 municipalities. Municipalities are devided into 546 townships.
Cities:
The biggest cities in Lithuania:
Vilnius – 541 824 pop. 622 500 pop. (year 2018)
Kaunas – 360 637 pop. 292 700 pop. (year 2018)
Klaipėda – 187 316 pop. 154 300 pop. (year 2018)
National holidays:
1st of January, New years
16th of Februrary, Independence Day
11th of March, Restoration of Independence
Easter (Sunday and the following Monday)
1st of May, Labour Day
First Sunday of May, Mother's Day
24th of June, Midsummer Festival
6th of July, Coronation of King Mindaugas
15th of August, Assumption Day
1st of November, All Saints' Day
25th-26th of December, Christmas
From www.miesteliai.lt